Setting a Fabulous Dinner Table
Posted on July 04 2022, By: Jonathon Hawes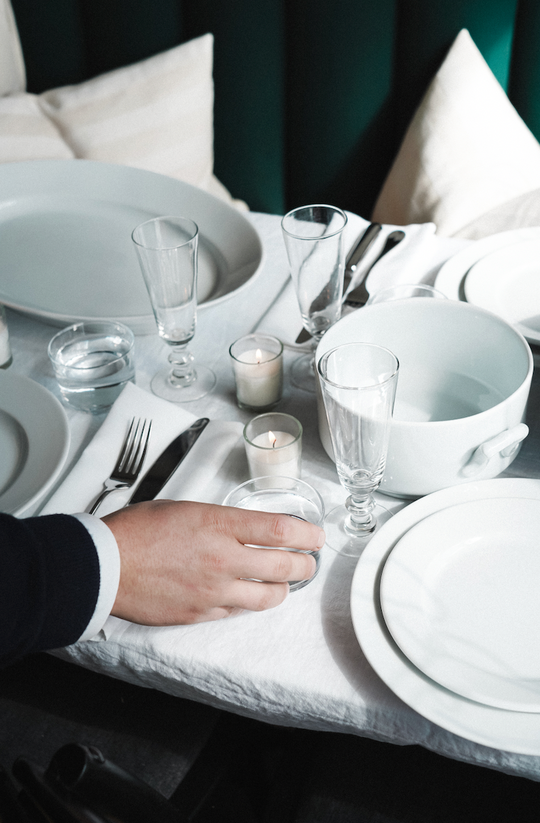 If it's your first time hosting a dinner party or setting a cozy dinner table, you can easily feel overwhelmed; I certainly still spin out whenever we have guests over to this day! Which side should I place the utensils on? How many glasses do I need? What on earth should I put as a centrepiece? The list goes on! 
If this sounds familiar, you're in luck because I am in the mood to share a few simple tips that will take your dinner party from ow to WOW! 
Setting your table the "Jonathon Hawes way"
When it comes to entertaining, setting your table elegantly can go a long way. Not only will it ensure that your guests will have everything they ever wanted or needed, but it will also showcases how much time and care went into preparing for their arrival; in an unpretentious sort of way. 
How you set your table completely depends on how many courses you plan on serving, and when Triet and I entertain, we typically serve 3. Essentially you begin by eating your meal with the flatware on the outside, and work your way in. 
Forks are always placed to the left of the plate, with knives and spoons on the right. Stemware is set above and to the right of the dinner plate; and bread-and-butter plates sit above the forks, to the left. Wow that was really a mouth full, but that is for a very traditional and formal table. You can make any adjustments you see fit, like removing the bread plate for example. 
Your dessert fork and spoon should be centred right above your charger, or dinner plate if you don't have chargers (a charger is just a decorative plate that sits under your dinner plate, which makes your table look very elegant and glamorous)!
Anticipate the evening ahead
Regardless of formality, it is always a good idea to try to anticipate the evening ahead and set your table accordingly. For example, if you think that someone may give a toast, make sure to include champagne flutes when setting your stemware on the table. In my experience, no one has ever said no to a fabulous chilled glass of Champagne! 
Also, if you are hosting more than four guests, you're going to want to plan your seating ahead of time, place cards always add a fabulous touch! Also, one silly thing we do when entertaining is trade places when the dessert is served. 
Adding a personalized touch 
When it comes to adding decor to your table, I think that short flower arrangements are the way to go, using a single colour - no mixy matchy for me! And remember, a few carefully placed tea lights throughout the table go a long way. They make any space feel warm, inviting and intimate. 
So regardless of how many guests you're expecting or the size of your space, you can absolutely host an unforgettable gathering! So, give these tips during your next dinner party and don't forget to have fun xx